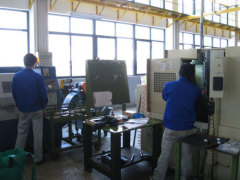 We Cary Mechanical Seals Factory is the advanced designer & manufacturer of mechanical seal area, the ranges involve in: industrial pump mechanical seals, mixer and agitator seals, cartridge seals, metal bellows seals, auto cooling pump seals and auto air-condition compressor lip seals. Cary products can replace the mechanical seals produced by such as John Crane\ Burgmann\AES\Flowserve and also can be widely used in petroleum, chemistry, refinery, paper making, pharmacy, power and auto industry. Now, Cary mechanical seal company widely cooperate with domestic & overseas institute, supply many famous enterprises in OEM market
Standards & Designs :
We manufacture Mechanical Seals as per International Standards like API 610, DIN 24960 & ISO-3069. We have Computer Aided Design facility for designing & developing new Mechanical Seals in the interest of our valued customers. We always try to offer simple, compact & sturdy designs to have ease in installation & maintenance
Technology :
We always try to develop new designs for our customers. We always ready to adopt new technology for improving our products. For us Technology is practical work with ease hence always offer simple technology to customers. We do not offer complicated designs just for charging higher prices.
Inspection :
We at Cary Seals factory do the rigorous inspection of all components and assemblies of Mechanical Seal. All components are inspected on shop floor during and after machining. These components again undergo final check up for dimensions and finishing at the time of assembly. To ensure better quality, we use all type of latest measuring instruments. We pay special attention in checking the quality of raw material, finished and assembled goods. All bought out components are also inspected 100% to avoid any fitment problem.
Quality :
Quality is our utmost priority. We use best grade of raw materials available internationally. Raw material, parts and assemblies are inspected thoroughly at various stages. By virtue of our quality matching to international standards, we are able to export our goods to various countries. Our motto is to provide best quality at reasonable price.

Packing :
We pay special attention on packing as Mechanical Seal Components are very Delicate & Fragile. We pack goods in many layers before putting in box to avoid any breakage during logistic. Every component is marked with full details to avoid any problem to the receiver, store & inspection agencies at client's site.

Delivery :
We at Cary Seals factory assure the fast despatches, which are Ex- Stock most of the time. With the help of past experience, management background and customer suggestions, we adopted special inventory program to component level to ensure best possible delivery. We also manufacture non- standard Mechanical Seals at short notice .